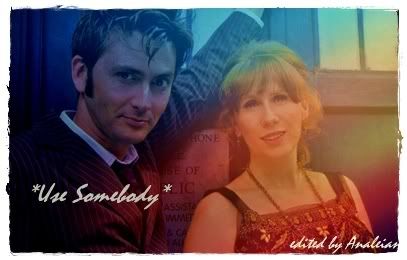 Song:
Use Somebody
Artist
: Kings of Leon
Fandom:
Doctor Who
Pairing :
Ten/Donna
Spoilers
: Series 3 & 4 (deleted scene included)
Summary
:
"
you know that i could use somebody, someone like you and all you know, and how you speak
"
Note:
I don't do happy!vid. but I loved that song and when someone asked me for a Doctor/donna's video I knew I could give it a go. I hope you'll enjoy it.
Link : YouTube (Watch in HD)
Warning: The low quality will ruin everything HD's on please !
Download






As alway comments rating subscribing... anything will make my day ! .