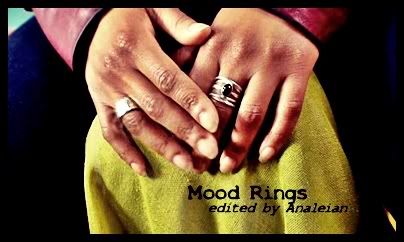 Song:
Mood Rings
Artist
: Relient K
Fandom:
Doctor Who
Genre
: Humour
Characters :
Ten/Companion (Rose/Martha/Donna)
Spoilers
: Series 2 to 4
Summary
:
"
and i've contrived some sort of a plan to help my fellow man
let's get emotional girls to all wear mood rings
so we'll be tipped off to when they're ticked off
"
Note:
The lyrics fit the Doctor so well ! Because honestly Ten never works out what his companion (Rose, Martha & Donna) think like many other guys who don't understand why girls get very moody). What could be a better idea than give them mood rings then? An interesting storyline, isn't it ? I had great fun doing this and I hope you'll feel the same watching it !


Link : YouTube (WATCH in HD)
Download it



Don't Forget HD's option !